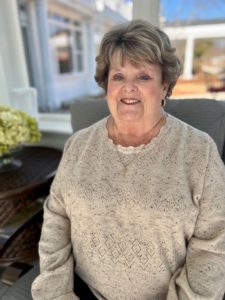 A testimonial by Sandy Hickey, Resident of The Manor Senior Living
Sandy Hickey moved to The Manor with her husband, Ed, in the spring of 2021.  This move occurred after years of Sandy being Ed's primary caregiver as he battles Lewy Body Dementia.  Lewy Body Dementia is the second most common type of progressive dementia after Alzheimer's Disease.  It affects the regions of the brain involved in thinking, memory, and movement (motor control).  Sandy is a resident of Independent Living and Ed is a resident of Memory Care.
How did you decide a move to The Manor was right for you?
We met with our doctor the day after Ed got out [of the house], and he said, "Sandy, you've done everything you can possibly do for Ed…it's time." And I said okay, and I prayed really hard about where we were supposed to be.  The Manor kept sticking in my head because we had family members who had lived here years and years ago.  We knew it was the right thing from day one.  I called one Wednesday, and we moved in the very next week.  And from then on, I haven't looked back – I haven't wanted to go back, and I pray every day that I'll be here 'til the day the Lord takes me home, because this is where I'm supposed to be.
Why did you decide to become a resident of The Manor, yourself?
Ed said to our doctor, "The only way I'll go, is if San goes with me…so I can give her kisses and hugs every day and hold her hand."  And I sat there as tears poured out of my face and I said, "You know I will never leave you."  For him to know, and this is really important to me, for him to know that I'm here too, and I don't think he's ever felt like I was betraying him or trying to get rid of him or anything because I'll go sit with him as long as I can to make him know that I'm right here too.  I tell him all the time, "Ed we're still in this together; we're one.  Remember, we've always been one; we're still one."
How has your life been these past two years as a Manor resident?
I've been learning how to be myself for the first time in 73 years, because I've always been a caregiver for my sisters, or Ed, or our kids.  When I was preparing to move in, Michelle (VP of Sales and Admissions) said, "Sandy, you think you know who you are, but I think when you get here, you're going to find out who you really are" … and I have.  I have learned to let go of the little things that used to bother me about Ed's situation, and now I'm totally at peace.  Knowing that Ed's situation is what it is, I cannot harp on that, it's inevitable, but I now have the strength to follow through, and I know he still loves me after all we've been through, all we're going through, whether he's aware or not.  And I can still say I love him more today than the day I married him – and that's from when we met at 8 years old to it'll be 54 years married in July.
How have you used your situation to try to help others?
I told one of our ministers that came to visit me several months ago that God has put me on a special mission field, and it's called 'Here' and it's called 'My Community.'  I think that's one reason I get so overly excited to see a new person, because a lot of them come in just like I did – shell shocked – with a total unforeseen situation, and I get excited because I want to tell everybody how wonderful it is here.  Everyone you meet has a different story, and you just need to listen.  We're here for each other, and a lot of places aren't like that.  A lot of places are nice; pretty…but it doesn't have the obvious atmosphere of a loving, caring place.  If you want to cry, you can find me and you can cry.  If you want someone to laugh with you, call me and I'll laugh with you.  If you need a lipstick and it's hard to find, I'll go find it for you.  We do things for each other because we're not just neighbors, we're a family.  When something happens to one of us, it happens to all of us.  We want you to be part of that kind of feeling.
Any closing thoughts or words?
There's not much more you can say other than my life feels totally complete.  I don't worry; I have no concerns, other than hoping Ed can stay upright.  Somebody asked me if something happened to Ed, would I move?  No, I would not.  I'm here for the duration.  Don't let a traumatic situation drive you away.  Learn that if you can start out loving and caring for each other when you're whole and young, you can survive when the unexpected happens.  And there are people that are here to help you get through that transition.  Hopefully, when you learn that, you can share it with other people.  And that's what makes up the wonderful, loving community here at The Manor.